Let's get the bad news over with. According to Hootsuite, the average reach for an organic Facebook post was down to 5.2% at the end of 2020. The year before that it was 5.5% and the year before that it was 7.7% – so you see where I'm going with this. 

Even if you hire a digital marketing agency, a really great organic social campaign is probably only going to reach a fraction of your audience. In 2021, the only way to get your post in front of a wider audience is to spend money. So Facebook will give you this option.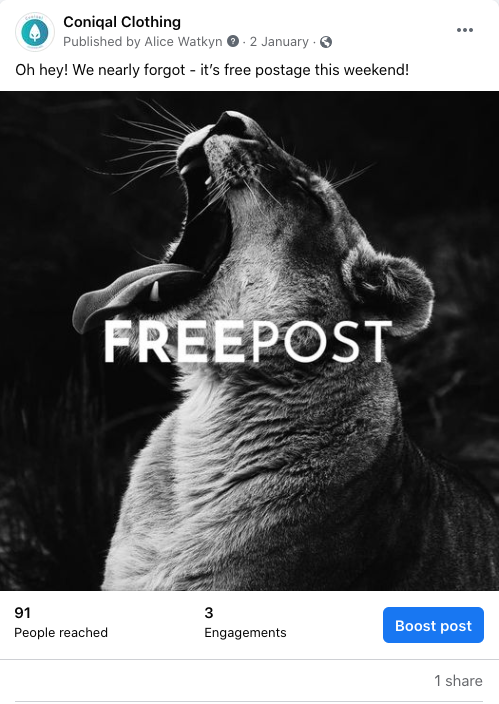 The boost button offers you a simplified way to run an advert using an existing post. For those struggling with Facebook's Ad Manager, it can seem like an easy way to get more people to see your message. Boosting can certainly be useful in certain situations but there are other times when only Ad Manager will do, as the boost button doesn't have all the functions that Ad Manager does. So, let's take a look at how both work and when to use each which method.
Objectives for Facebook advertising
The objectives you wish to realise are the foundations of any ad campaign. Probably the most commonly used objective in Facebook ads is conversions (sales). You can see that this objective is not available with boosting.
| | |
| --- | --- |
| Ad Manager | Boost |
| Brand Awareness | Traffic |
| Reach | Messages |
| Traffic | Engagement |
| Engagement | Lead Generation |
| App Installs | Calls |
| Video Views | |
| Lead Generation | |
| Messages | |
| Conversions | |
| Catalogue Sales | |
| Store Traffic | |
You may think, well I can drive traffic to my store and those people might buy. Indeed they might. However, it is important to remember that the Facebook algorithm is really clever. If you set your objective to 'traffic', Facebook will show your ad to people most likely to visit your website. Those people are not necessarily the same as people that are most likely to buy from you. It is only when you choose 'convert' that Facebook will show your ad to the people that it knows are most likely to convert. Which each objective you choose, Facebook will deliver your ad to the people most likely to fulfil that objective.
Audience
Your audience is one of the cornerstones that sets determines the success of your ads. You want to make sure that the people Facebook shows your ads to are of the right demographic, have relevant interests and, if applicable, are in the area where you want to promote your business. You may also want to show different ads to people who have never heard of you before to people who have already engaged with your business. Ad ManagerBoostPeople who have already engaged with your business.
Ad Manager
Boost
People who have already engaged with your business
– website visitors/purchasers
– Facebook audience – Instagram audience
People who have already engaged with your business
– Facebook audience – Instagram audience
Lookalike audiences
Interests
Age/gender
Age/gender
Location
Location
Interests/behaviours
Interests/behaviours
What is key here is that only Ad Manager will allow you to target people who have engaged with your business on your website. That means people who have visited your site or something more specific like adding a product to their cart or even purchasing. Obviously, the closer people have got to purchase from you, the warmer they are to your brand.
When should I boost?
So let's get down to the nitty-gritty and look at some scenarios where boosting is a useful option.  
Events: If you are holding an event, or intend to attend one (say a Christmas market), you can advertise your event to people in the local area. 
Building brand awareness: building awareness is quite a cheap option for Facebook advertising. Here is where boosting comes into its own; if you have a post that has got significant engagement, this can provide valuable social proof. Meaning that people are more likely to take notice of an ad that has lots of likes and comments. It makes the company seem trustworthy and likable, and the product seem more valuable.  
Promotion: You can promote anything here. This might be new content, such as videos, courses or guides; or you can promote offers or new products.
Additional options in Ad Manager
There are a number of other options which are only available in Ad Manager that you might want to consider before you decide whether to boost or use Ad Manager. A key advantage of Ad Manager is the option is to use additional ad formats, such as videos generated by Facebook or carousels.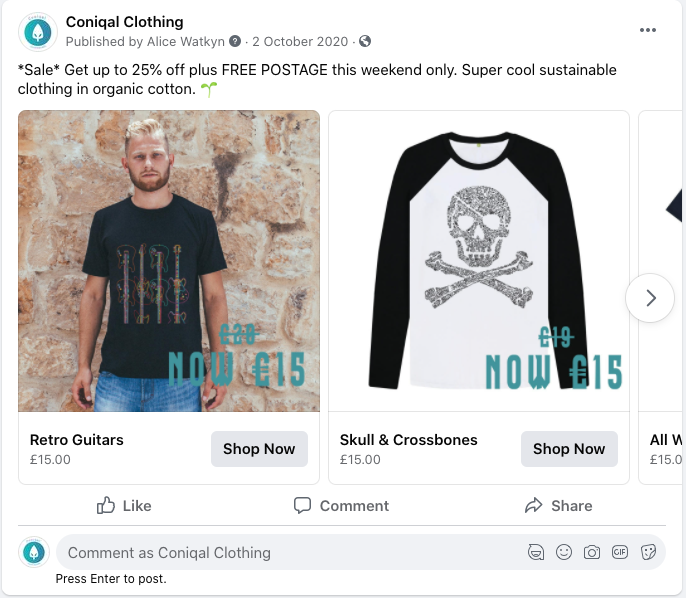 With Ad Manager, you also get more options for where your ad will show, such as stories and Messenger. These are not available when boosting.
Choose your weapon!

There is definitely a place for boosting if you want to present a well-performing post to a new audience. As I mentioned earlier, an ad showing lots of engagement will often perform better than one with none. However, your audience options are limited. It's also important to note that you can also promote a post using Ad Manager and you have a much wider choice of audience.
Although boosting can certainly help, I would recommend learning to use Ad Manager if Facebook ads form part of your marketing strategy. It can look intimidating at first glance but there are plenty of YouTube tutorials offering instructions on how to set it up. Ben Heath has an excellent YouTube channel that's packed with useful videos to help you use Facebook Ads. Having a solid understanding of Ad Manager will show you exactly what options are available to you and you will be able to understand how these can be worked into your marketing plan.
Good Luck!